Gazelle Cabby for camping in Tiree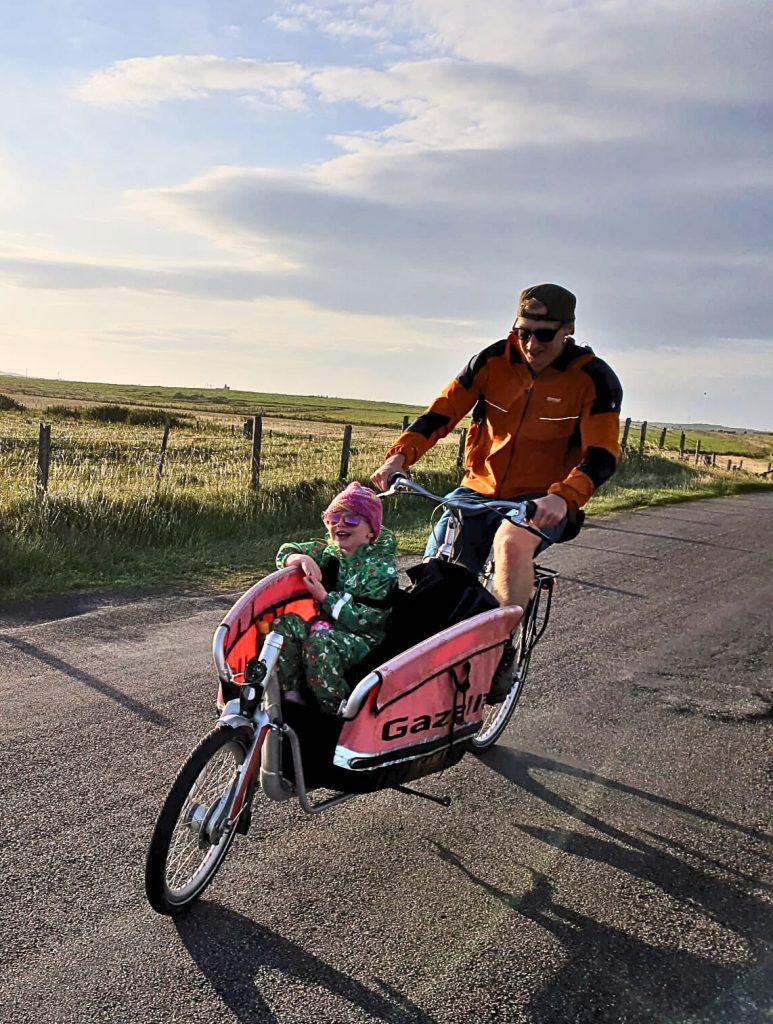 Jemma Beedie is a project officer on Project Food team at FEL. 
Vehicle spaces on Cal Mac ferries from Oban to Tiree go very quickly for the week of Tiree Music Festival (TMF). By the time my family decided to get festival tickets and head to the island, there was no chance of bringing our campervan. 
Instead, we planned to use a Gazelle Cabby cargo bike to cart around our daughter and festival supplies. The tent and other miscellaneous items went in panniers and on a trailer on the back of my workhorse Pinnacle Californium. 
The Cabby could not have been better for our needs – unless it had been electric! Tiree is relatively flat, and distances between the festival campsite and other locations, like a local shop or to another beach, were going to be manageable. We powered through rising winds from the harbour along to Crossapol with no problem. 
However, things were set to change. On Thursday evening winds were so strong, with gusts of around 53 mph, that TMF organisers were forced to cancel the whole event. With so many of us staying in tents, it was unsafe to carry on. Though we were disappointed, of course, the reality of the situation was that this was the correct decision. 
Residents of Tiree were so welcoming and warm, bringing festival-goers into their homes for the night, that it somewhat made up for the missed fun. My family decided to stay through the weekend: the weather was forecast to improve and there were accommodation cancellations throughout the island as people were advised not to travel from the mainland. 
As the sun shone on Friday we cycled to the Reef Inn for a bite to eat from our room in Hynish. On Saturday we pottered to Balevullin beach via the superb playground, then back again to Hynish. On Sunday the weather was so good we spent another few hours at the beach near our bunkhouse before cycling to Scarinish Beach Hotel for live music on the outdoor stage. 
Each day we cycled around 15 miles, and on many of those days my husband Duncan cycled with his surfboard strapped to the side of the Cabby. "The cargo bike was surprisingly easy to use – even after I got carried away with loading it with my heavy canvas tent, camping gear, surfboard and five year old daughter," he said. "I also think we especially liked being able to chat on our trips, which you can't really do with a trailer. 
"Finally, I liked the fact I could change gear whilst stopped as it made for easier take offs. Four thumbs up from us!"
Our daughter said: "I love the bike. It's really fun!" 
We are already planning another visit to some of Scotland's isles on the cargo for later this summer. We might leave the canvas tent at home, though.