Free Bikes For Forth Valley Volunteers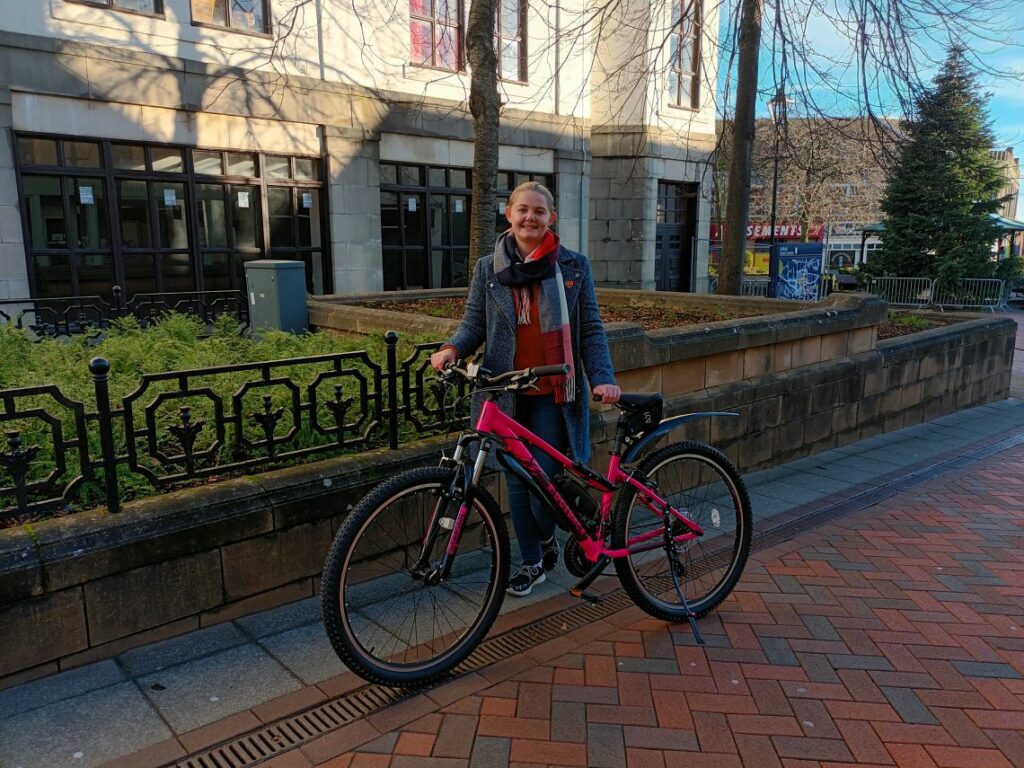 Charity Forth Environment Link has launched a new project for 2023, offering volunteers across Forth Valley a free bike.
The new scheme is open now for applications, with the first cohort of volunteers collecting their bikes last week. One of the first recipients was Chloe Bruce, a volunteer with Food Train who collected her new bike and accessories from Falkirk Active Travel Hub. She said:
"I am really pleased to have been offered the opportunity of a bike through the cycle to volunteer scheme.
"I've volunteered with Food Train for quite a few years now and am excited to be able to leave the car at home and cycle in instead.
"It was a really easy process, and I was able to choose from a good range of bikes, as well as the necessary accessories.
"It's a fantastic opportunity that I hope more people will get involved in."
Cycle to Volunteer is open to anyone who regularly volunteers, is over the age of fourteen and lives in the Forth Valley region.
Forth Environment Link Project Officer Holly Hunter said:
"Unlike employees, volunteers aren't eligible to get support to buy a bike through employer or government funded bike schemes.
"The idea behind this new initiative is to provide that support and thereby increase the number of volunteers cycling to their placements.
"Volunteers can self-refer or be referred by their organisation.
"The bikes are chosen by the volunteer and ordered along with accessories such as a helmet, lights and locks.
"We're also offering the option to repair bikes, if the volunteer already has a bike which is off the road, and essential cycling skills training."
The innovative project is funded by Paths for All.
Smarter Choices, Smarter Places Manager at Paths for All, Graham McQueen said:
"Volunteering and the crucial services provided by volunteers are increasingly important to all our communities.
"It's great to see projects like Forth Environment Link's Cycle to Volunteer scheme support and encourage volunteers to travel cheaply and sustainably within their communities and help them to provide the increasingly vital support that is needed."
Volunteers interested in finding out more should contact athstirling@forthenvironmentlink.org