e-Cargo bike loan for Kincardine Community Centre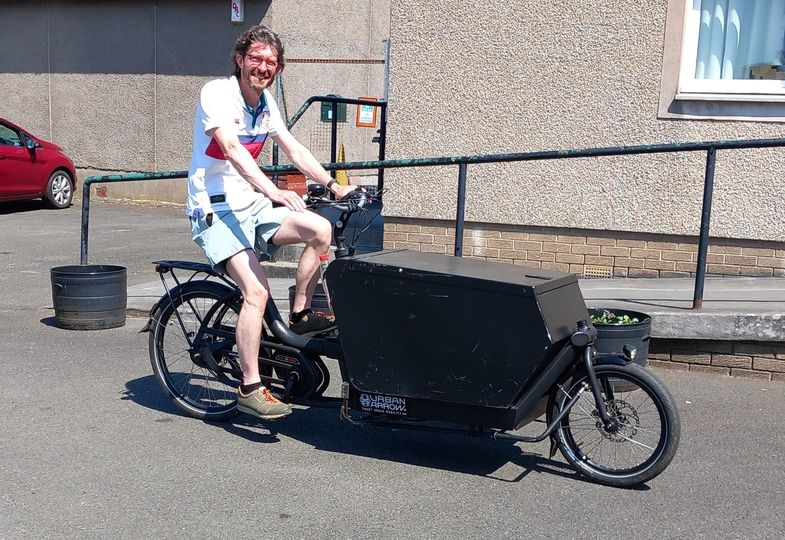 FEL recently loaned an Urban Arrow electric cargo (e-cargo) bike to Kincardine Community Centre to assist local people with shopping, deliveries, and more. Keen cyclist and community member Andy Willo collected the bike and rode it to the community centre to experience the electric assist and how the bike handles. Here he lays out what the bike offers and some things to consider when using an e-cargo bike for the first time.
"The ride was great! It took a while as I kept stopping for photos but it was very easy. I picked the bike up in Springkerse and came back along the NCN76 via Alloa. The bike looks quite daunting, but after a couple of minutes of wobbling in the car park getting the balance, it was great. The electric motor makes it easy, but quite a bit of the time I was riding without any assist. When I did need it going up the hills it worked great.
This version of the Urban Arrow has a box on the front, which in the sun was a bit hot inside. It weighs a fair bit, but that's more of an issue when not cycling than on it. It's got e-assist, so you have to pedal to make it go. It's got a hub gear which is easy to use and can be changed when stationary. The motor has four modes; I used the lowest one most of the time, but the higher ones on a couple of climbs and at junctions. It has a range of 40ish miles, depending on how you use the battery. The e-assist cuts out above 15.5 mph as required by law. I was cycling bits on the flat at 18 mph and I'm not super fit. Managed 28 going down Lookaboutye Brae.
It is long, and if you're not confident on a regular bike balance wise, you'll need to take it steady in the car park to get used to it. The turning circle is very different to a normal bike and a couple of older barriers on the cycle path needed a bit of care. The only downside is the small front wheel means lumps and bumps are noticeable. The rest of the time it was great."
That's all really useful information if you're looking to try out an e-cargo bike for the first time. We're looking forward to hearing what uses the people of Kincardine find for the Urban Arrow. To find out more about borrowing an e-cargo bike from FEL, get in touch using the email address travel@felscotland.org.