Harvest Feast + Film Screening with Fodder + Farm and Upper Ballaird Farm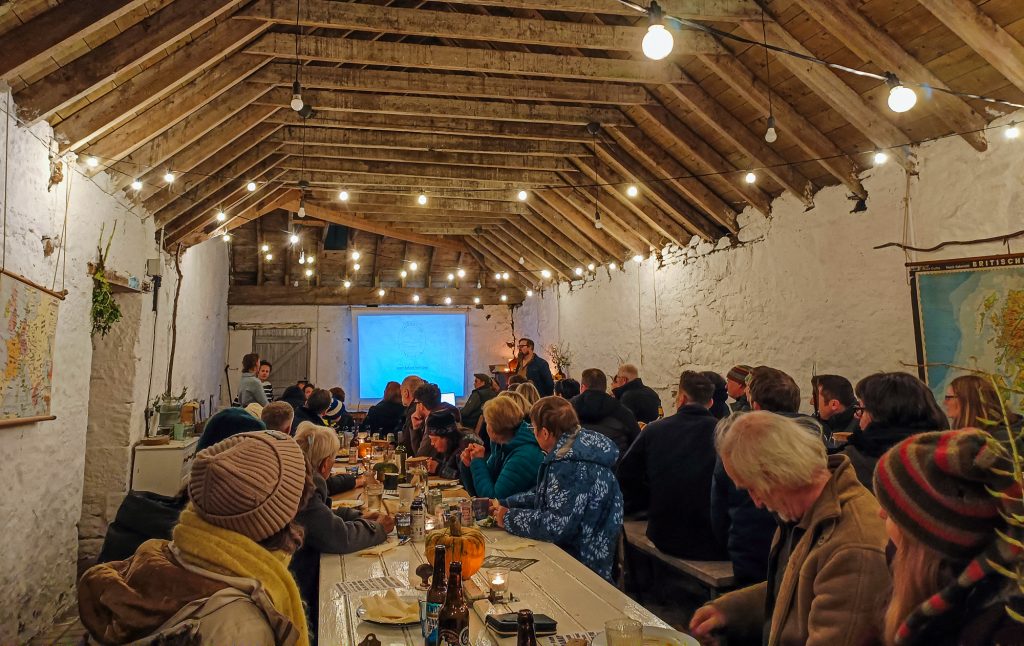 FEL Scotland were delighted represent The Stirling Food Partnership at a recent collaboration event which explored Community-supported Agriculture systems and showcased how our Forth Valley clusters of small farmers are making a difference.
Community-supported Agriculture is a system in which a farm operation is supported by shareholders within the community who share both the benefits and risks of food production.
Customers not only forge stronger connections with their farmers and the Scottish landscape but actively participate in sustainable food practices, reducing waste by growing what is needed.
This collaborative effort not only benefits consumers but also mitigates risks for social enterprises like Upper Ballaird Farm Coop, eliminating uncertainties and potential profit losses.
It's heartening to witness the commitment of both Upper Ballaird and Fodder and Farm to supporting community food learning and access. Upper Ballaird, for instance, partners with Start up Stirling growing fresh vegetables for their food parcels, while Fodder+Farm champion local producers, ingredients and promote knowledge-sharing on regenerative farming.
Joining forces with other passionate farmers like Old Leckie Farm and Achray Farm, this forms a powerful local cluster dedicated to a sustainable future for our planet through responsible farming practices.
We highly recommend watching the film by the Landworkers Alliance, 'In our Hands' which was screened on the night and is free to stream via Vimeo.
In Our Hands – English Subtitles from Landworkers' Alliance on Vimeo.
A huge thanks to all for having FEL Scotland along to join in debate and conversation from the community who are actively supporting a better food system for Stirling.