Falkirk Good Food Ambassadors Programme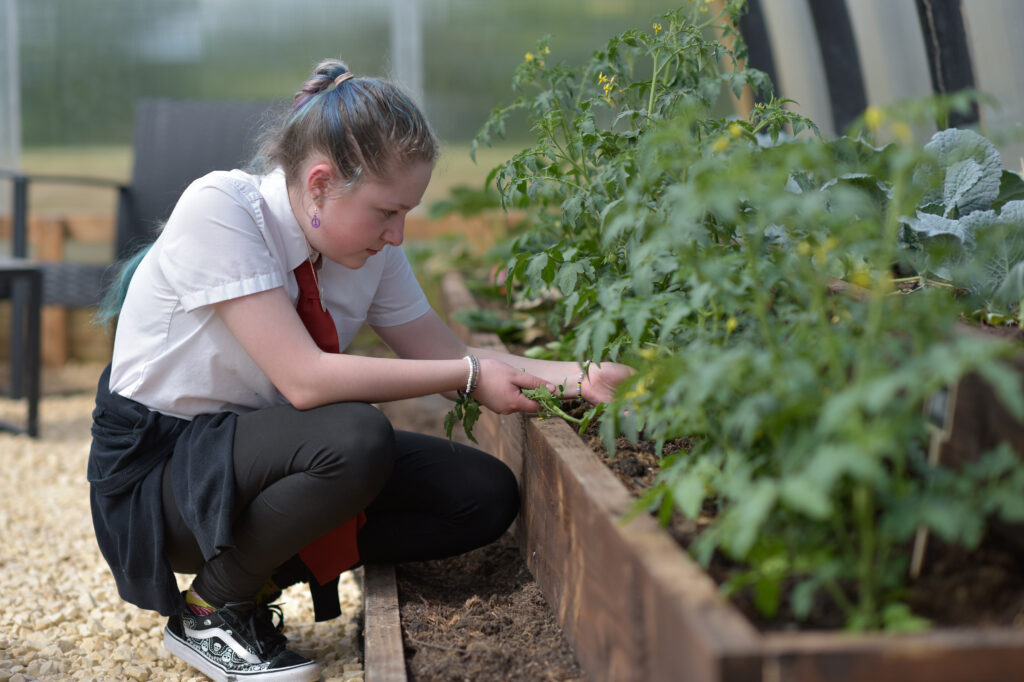 As part of the Falkirk Food Future Programme, we ran the Falkirk Good Food Ambassadors programme in two local high schools – Braes and Falkirk High. This programme was aimed for young people to explore more about food and growing, learn new skills and gain new experiences. Read the full story here!
The benefit of this was the increase in confidence, communication and change in behaviour we saw in some of the young people.
The programme was made up of 10 -12 weeks of cooking, growing, filmmaking, art and included a visit to Gartur Stitch Farm.
Pupils at Falkirk and Braes High Schools have been working with climate charity Forth Environment Link over the past 3 months as part of Falkirk Food Futures – a project aimed at building a fairer, resilient and sustainable food future for the area.
During the 12-week programme, the teens were given the chance to grow and cook their own food, as well as visit a local farm to find out where their food comes from.
The young ambassadors have already begun sharing what they've learned with the wider community by taking part in local community food projects.
Forth Environment Link's Food Project Officer Vicki Ferguson said: "It's been great to see the students embrace their new roles and share the food knowledge they've gained with others."
"Our Falkirk High Good Food Ambassadors have used their newfound skills to create meal kits, which will be donated through the Tamfourhill Community Centre's Food Pantry.  
"While our Braes ambassadors are looking to get the local community involved in growing vegetables in their school polytunnel which will be distributed locally for free. 
"Many of the young people had never grown anything before and the project has increased their confidence and knowledge about food." 
During the programme, the ambassadors also gained non-food skills, as Vicki explained: "Both schools created films about food. Falkirk High worked on one around Good Food for All and Braes created one on the theme, Healthy People, Healthy Planet. We're looking forward to premiering these on social media this summer."
Deputy Head of Braes High School Kevin Smith said: "Vicki has built up strong positive relationships with our young people, who look forward to her sessions every week. Over the 12 weeks, all the pupils reported an increase in their confidence, skills and knowledge. This measure clearly shows the significant impact the project has had on our young people."
"We appreciate all the hard work, time and effort it has taken to make this programme so successful at Braes and will continue to develop what we have started after the summer break." 
Falkirk's new Good Food Ambassadors said: 
Over the 12 weeks, I would say my confidence has really increased and I have also made new friends. I enjoyed baking the beetroot brownies and learning about plough to plate. 
My confidence in my cooking skills has increased. I enjoyed creating my own soup and making beetroot brownies. I also enjoyed the trip to the farm and learning to milk goats 
I've made new friends and my confidence has gone up a lot from being in the Good Food Ambassadors. I really enjoyed all the cooking and the art lesson. I have loved working with Vicki who has taught me how to plant and care for vegetables and fruit. 
I have enjoyed this programme so much; it has made my confidence grow because I have been talking to new people. I have enjoyed the baking and the planting parts which I have now learned to do on my own. 
Teacher Ruth Kelly added: "The Good Food Ambassadors programme has been amazing for our young people. Vicki's enthusiasm and creativity had the pupils engaged from the get-go."
"The knowledge she passed onto our young people and myself has been so valuable, and I cannot thank her enough. Not only has this programme raised the aspirations of our young people, but I have seen their confidence flourish over the 12 weeks."